Scandalous Scallops In A Creamy Tomato Sauce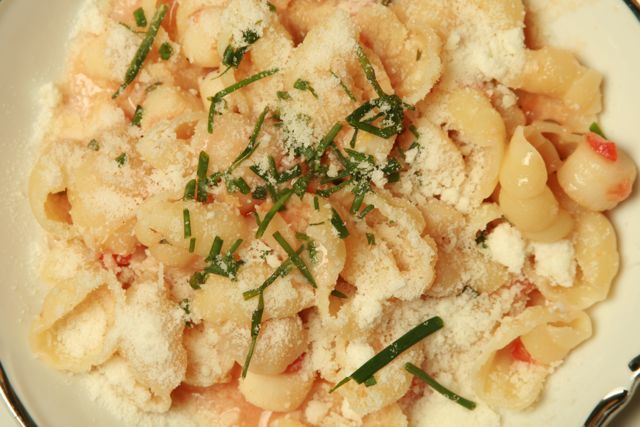 The recipe has a few extra steps that make it more involved (blanching and peeling the tomatos first, separating the sauce) but it's soooo worth it. The choice of shell pasta (something I never use) is perfect too. I made this dish for a Friday night romantic dinner for two and it was a hit (mid-meal, the cock-in-question looks up from his plate and says, reverently, "This is really good.") Also made the pasta for two girlfriends who licked their plates clean. You get drunk on it, it's that good.
I reduced the cream and butter, per the cfc philosophy, with no loss of flavour.
Ingredients
1 gallon boiling water
1/ 1/2 pounds bay scallops (I used a .. bag of frozen, thawing and rinsing them first)
1 tablespoon butter
3 medium tomatoes
1/2 cup dry white wine
4 tablespoons minced shallots (I used leeks the first time, shallots are awesome too.)
3 tablespoon chives (chop extra for garnish)
1 teaspoon minced garlic
1/2 chopped red bell pepper
1/4 cup shredded fresh basil
1/4 – 1/2  cup heavy cream (the original called for a whole cup, which I found unnecessary)
4 cups cooked pasta shells
salt and pepper to taste.
Directions 
1. Plunge the tomatoes into the water for 20 to 30 seconds or until the skin just begins to show a tiny split or two.
2. Remove and let cool for a second or two. 
3. Peel the tomato under running water.
4. Slice into halves and gently squeeze the tomato to force out the seeds.
5. Chop the tomato quickly into a glass bowl until ready for use. (Glass is for the acid, it won't react with glass.)
6. Rinse the scallops. (If you're using regular scallops, but then in half, since they are twice the size.)
7. Heat the butter in a pan and add the scallops. Cook and toss for a minute .
8. Add the wine, shallots, chives, garlic and bell pepper. Cover the pan and let simmer for three minutes or until the scallops are just done.
9. Remove the scallops with a slotted spoon and set aside.
10. Add the basil to the liquid from the cooked scallops and put into a separate bowl.
11. Put the cream and chopped tomato into the pan and reduce over high heat buy one-half.
12. Add the reserved liquid and reduce by half again.
13. Add the pasta to this to heat through and then the scallops for just a minute.
14. Serve with freshly grated Parmesan cheese.  Garnish with more chopped chives.
From "No Cock, No Comment!"
You may like also: